We can understand your enthusiasm and eagerness to appear stunning on your special day. When it comes to hair, every bride brings her own distinctive blend of length, color, and texture to the wedding scene. Selecting the perfect wedding hairstyle is just as crucial as choosing your bridal gown. Moreover, these two elements should complement each other seamlessly and align with the overall theme of your wedding.
Every bride possesses her unique tastes, preferences, hair type, and hair length. Fortunately, there is an abundance of gorgeous black wedding hairstyles to choose from, ensuring that every bride can find a hairstyle that beautifully complements her natural beauty.
Today, we're diving deep into the special world of black wedding hairstyles for Black women. Some might even argue that your wedding hairstyle carries just as much weight as your choice of wedding dress, and we're here to guide you toward nailing that perfect look.
Best of the Black Wedding Hairstyles for Black Women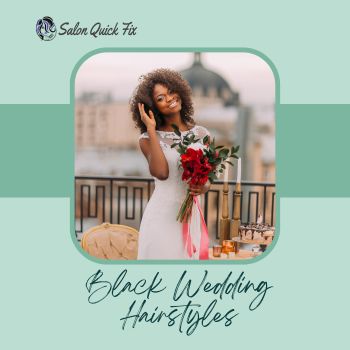 Aside from exchanging vows, there are several crucial aspects that matter to a Black woman on her wedding day. Achieving a flawless appearance is undoubtedly a top priority. The ideal hairstyle can significantly enhance one's overall look on this momentous occasion. Therefore, we have curated an extensive list of over 10+ exquisite black wedding hairstyles for Black women, simplifying the process of selecting the perfect hairstyle for your special day!
1. Cornrows and Curls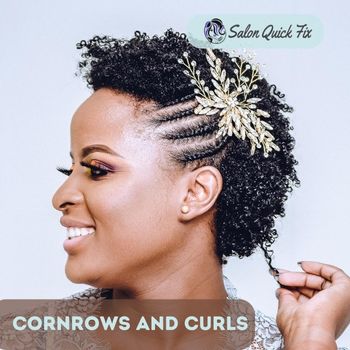 Cornrows hold a special place as a beloved and widely embraced hairstyle among Black women worldwide, particularly those who opt to flaunt their natural curls. It's hardly astonishing that cornrows are a prevalent element in numerous black wedding hairstyles tailored for Black women.
This style seamlessly adapts to hair of varying lengths, and its inherent simplicity and flexibility make it a superb choice to complement a wide range of wedding dresses. Whether you're the bride or a bridesmaid, this style is equally fitting, and the beauty of it is that you can continue to rock this hairstyle even after the wedding day.
2. Wavy Chignon
Enhancing the timeless chignon with gentle waves is a splendid technique to infuse texture and a touch of vintage glamour into your wedding day hairstyle. This exquisite style brings forth an air of grace and poise that effortlessly captures the essence of elegance.
Firstly, it adds a delightful dimension to the overall look, breaking away from the traditional sleekness of the chignon and introducing an element of softness and romanticism. Secondly, the infusion of vintage glamour is a nod to the iconic hairstyles of bygone eras, reminiscent of Hollywood starlets from the golden age of cinema. This touch of nostalgia adds a touch of sophistication and allure to your bridal appearance. It's a style that not only complements a variety of bridal gowns but also leaves a lasting impression of grace and sophistication.
3. Voluminous Curls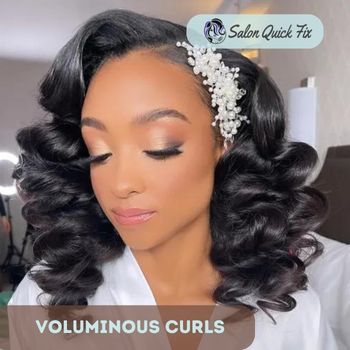 Voluminous curls stand as a strong contender among the array of choices for black wedding hairstyles tailored for Black women. This particular style carries a versatile charm, capable of working its magic on relaxed hair while also being attainable on natural and curly hair through various methods, with or without the use of heat styling tools.
One of the notable advantages of this hairstyle is its adaptability to different hair types. While it works seamlessly on relaxed hair, it also offers a fantastic option for those with natural and curly hair. For those with natural curls, stretching the hair can be achieved through various techniques such as braiding, twisting, or using heatless methods. This allows for the creation of voluminous curls that maintain their shape and bounce throughout the wedding day.
You May Also Like: Hairstyles for Special Occasions
4. Sleek and Puffy Ponytail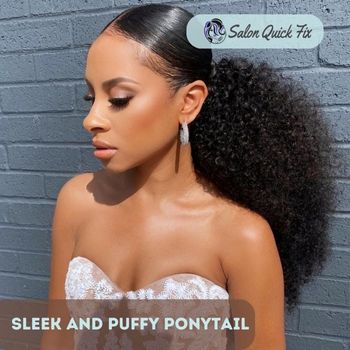 The sleek, low puffy ponytail is a fantastic choice that appeals to both brides and bridesmaids. This chic and playful hairstyle is especially ideal for brides who are inclined to take charge of their own hair on their big day. Its charm lies in its ease of execution, making it a viable option for DIY hairstyling. Moreover, it's a versatile look that can be achieved with equal finesse on relaxed or natural hair, with or without the use of hair extensions.
For brides seeking simplicity without sacrificing style, this low puffy ponytail is a go-to choice. Its low-maintenance nature means that you can focus on enjoying your special day without constantly worrying about your hair. Additionally, it offers a canvas for accessorizing with decorative pins, combs, or even a delicate veil to enhance your bridal look.
5. Roll and Tuck Chignon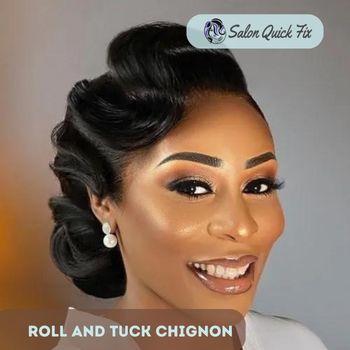 The roll and tuck chignon, in essence, is a harmonious fusion of diverse elements that combine to create a singular and captivating look. It invites you to be the architect of your own bridal hairstyle, allowing you to infuse it with your individual personality and vision. This approach opens up a world of possibilities, ensuring that your hairdo is a true reflection of your identity and not just a conventional choice.
It's an opportunity to transcend the ordinary and create a bridal look that is as distinctive as you are. So, if you're torn between multiple hairstyle choices, consider merging them into a fresh, new creation that truly embodies your essence and leaves you feeling radiant and confident on your wedding day.
6. Loose Fishtail Braid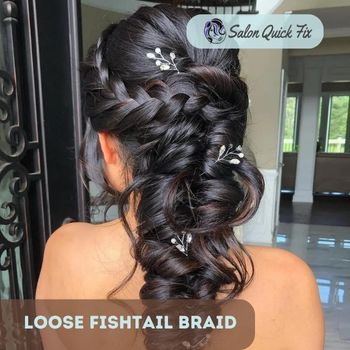 Fishtail braids may seem intricate, but they're surprisingly simple to create, offering a stunning payoff. This hairstyle is a fantastic choice for Black brides seeking elegance as the braid gracefully cascades down their back. Its beauty lies in its versatility, allowing for a variety of accessories to enhance the overall look.
Achieving a fishtail braid involves a weaving technique where two sections of hair intertwine, creating a visually captivating pattern. The result is a captivating blend of sophistication and bohemian charm, making it suitable for various wedding styles. From delicate floral pins to elegant hairpins, there's a plethora of accessory options to personalize your fishtail braid, ensuring you radiate beauty on your special day.
7. Pin Curls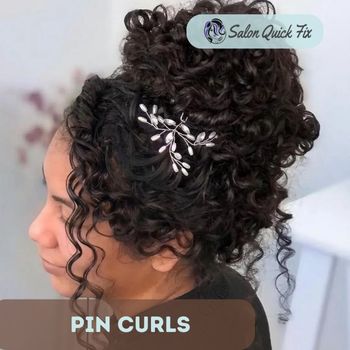 This style works beautifully for those with tapered cuts, bestowing the illusion of a flawless updo. It's a versatile choice for brides with shorter hair, adding a touch of sophistication to their wedding look. The real magic happens when you adorn it with accessories, turning it into the ideal bridal hairstyle for a truly perfect bride.
By skillfully arranging and styling the hair, the tapered cut transforms into an elegant and polished updo that complements various bridal gowns. With the addition of carefully chosen accessories, this hairstyle elevates the bride's overall appearance, ensuring she radiates beauty and confidence on her special day.
Do You Want to Know:- What your hairstyle says about you?
8. Pompadour and Double Chignon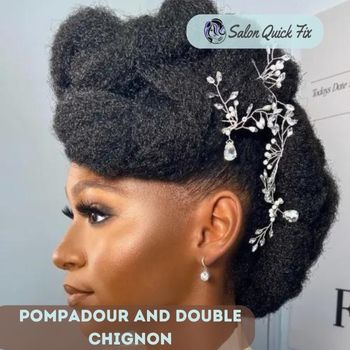 The intricate pompadour hairstyle, accentuated by a double chignon, is bound to capture everyone's attention. Far from the ordinary, it's the perfect choice for a bride aiming to make a bold and unforgettable statement on her wedding day.
This exceptional hairstyle combines classic and modern elements, creating a striking and unique bridal look. The pompadour adds a touch of vintage glamour, while the double chignon infuses a contemporary flair. Together, they result in a show-stopping appearance that truly stands out, ensuring the bride's wedding day is nothing short of remarkable.
9. Sleek Classic Chignon with Middle Part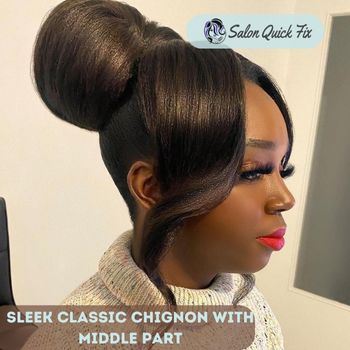 Chignons epitomize timeless vintage glamour and an air of formality. The enduring appeal of this hairstyle ensures its perennial presence among the top choices for black wedding hairstyles among Black women.
Its uncomplicated yet elegant aesthetic makes the chignon a perennial favorite, suitable for a range of bridal styles. Whether you possess relaxed or natural hair, the key is the ability to gather your locks towards the nape of your neck to craft the perfect chignon. And should you desire additional length, extensions provide a convenient solution to achieve the desired look. This adaptability and enduring allure make the chignon a timeless choice for brides seeking understated elegance on their special day.
10. Curled Sisterlocs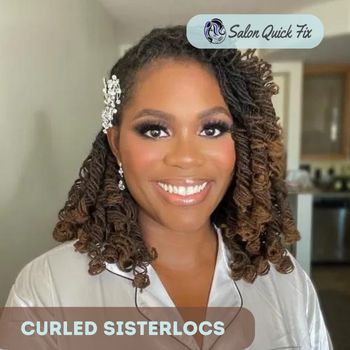 Locs exhibit remarkable versatility, making them an excellent canvas for wedding hairstyling. Curling your locs is a particularly appealing option to explore, imparting a graceful and captivating allure to your wedding look. These luscious, curled locs exude loveliness, and the beauty of this style lies in its adaptability.
One notable advantage is the multitude of hair accessories that can be effortlessly incorporated, enhancing the overall charm of your hair. Whether you opt for delicate floral pins, sparkling jewels, or a classic veil, your hair will remain resplendent. This versatile styling choice ensures your wedding day appearance is nothing short of fantastic.
Find More: 8 Butterfly Locs Protective Looks to Inspire You
11. Natural Highlighted Curls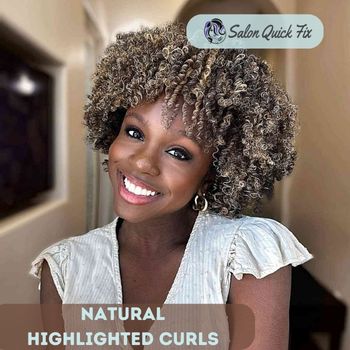 Natural curls possess an innate beauty that stands as a complete hairstyle in itself, and the confidence boost of a fantastic curly hair day is unparalleled. Embracing your natural curls in their untamed glory is an excellent choice when considering black wedding hairstyles for Black women.
While the option to add color is available, it's entirely optional. There are numerous temporary hair color methods to experiment with, allowing you to infuse a burst of vibrant hues without compromising your gorgeous curls' health and integrity. This approach offers versatility, ensuring you can showcase your unique style and bask in your natural beauty on your special day.
12. Curly Bun with Side Swept Bangs
Who can resist the charm of a beautifully crafted bun? This hairstyle not only exudes sophistication and grace but also incorporates pinned curls that captivate the eye, leaving you mesmerized by its intricate details.
The elegance of this style shines through, making it a standout choice for any occasion. With or without bangs, the oversized bun takes center stage, ensuring all eyes are on you. This stunning bun hairstyle promises to leave a lasting impression, making you feel like a true star on your special day.
13. Floating in Flowers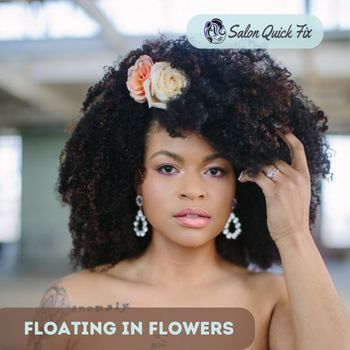 While loose curls exude a playful charm, they can pose a challenge when it comes to showcasing hair accessories. A clever solution lies in selectively pinning the lower portion of your curled hairstyle, giving rise to a distinct shape and a perfect spot to affix a dazzling jeweled flower.
This approach offers the best of both worlds: the front retains its volume, and each curl maintains its individuality, preventing a flat appearance. By securing the base, you create a focal point for your accessory, allowing it to shine and catch the eye. This strategic placement not only highlights the accessory's beauty but also ensures your hairstyle remains dynamic and visually captivating. It's a harmonious blend of style and functionality, perfect for any occasion.
Tips to Find the Best Black Wedding Hairstyles for you!
In the realm of bridal beauty, the quest for the perfect black wedding hairstyles can be both exhilarating and overwhelming. With an array of stunning styles to choose from, the challenge lies in selecting the one that truly resonates with your vision. To assist you in making this crucial decision, here are some valuable suggestions:
Dress and Theme Harmony: Your wedding dress and chosen theme serve as the foundation for your entire bridal look. Therefore, it's advisable to finalize these elements before settling on your hairstyle. For instance, a rustic-themed wedding pairs beautifully with a messy updo adorned with a delicate flower clip. Conversely, if you're donning a voluminous ball gown, consider long curls or graceful beach waves to complement your attire.
Comfort Is Key: Consider your comfort level when deciding on a hairstyle. Reflect on your tolerance for hair in your face and the weight of your chosen style. Seasonal considerations matter too. A pixie cut or high updo can keep hair off your face if you prefer a fuss-free option. Opt for shorter, lightweight styles or skip heavy weave buns if you crave comfort. Longer hairstyles provide warmth for winter weddings, while summer brides may prefer hair off their shoulders.
Flatter Your Face Shape: Not all styles suit every face shape, so it's essential to choose a hairstyle that enhances your natural beauty. Here are some guidelines:
Oval Face: You have the versatility to rock various styles, from shortcuts to long waves or formal updos.
Diamond Face: Styles with added height, such as high buns and voluminous wash n' gos, work best. Most updos are also flattering.
Heart Face: Opt for longer hairstyles with volume around the crown. Mid-length to long voluminous waves or curls are ideal, as are styles with a deep side part.
Round Face: Balance your proportions by selecting a style that adds height or cascades down your back.
Planning for Locs: If you plan to showcase locs on your wedding day, meticulous preparation is key. Begin experimenting with different loc styles months in advance. Consult with your loctician to schedule deep cleansing, dyeing, or retwisting sessions to ensure your locs are pristine and perfectly aligned with your bridal vision.
Your bridal day is your moment to thrive, as all eyes will be on you. Therefore, it's crucial to choose a hairstyle that resonates with your unique style and makes you feel absolutely stunning. With the plethora of black wedding hairstyles and guidance provided in this article, you're bound to discover the perfect one that aligns with your vision and enhances your radiance on this special day!
Bottom Line – Black Wedding Hairstyles
In conclusion, the world of black wedding hairstyles for Black women is a vast and enchanting one, offering a myriad of options to suit every bride's unique style and personality. From timeless classics like chignons to more contemporary choices like loose curls or intricate updos, there's a hairstyle to match every wedding theme and gown.
Whether you choose to embrace your natural curls, experiment with locs, or opt for a chic bun adorned with accessories, the goal is to feel confident, radiant, and authentically yourself on your wedding day.
Remember, your wedding day is a celebration of love, and your hairstyle should be a reflection of the beauty and uniqueness that you bring to that joyous moment. Embrace the journey of discovering the perfect wedding hairstyle, and cherish the memories it will create on this extraordinary day.